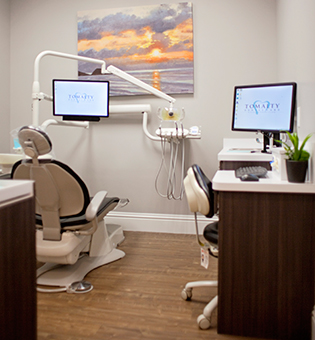 Welcome Video
Get to know the Tomalty Family
Find a Location Near You:
"Always a great pleasure. Truly the nicest people. Great staff, great service, clean beautiful state of the art facility. And as far as bedside manner….impeccable. I've been afraid of dentists since childhood and dr. Tomalty and his staff have truly gotten me looking forward to my next appointment. I'm so so grateful. There's no other dentist office I'd ever go to even if it were free, I'd choose Tomalty over and over every time."
The Tomalty Family's goal is to provide our patients with the highest quality oral healthcare possible and to create beautiful, lasting results. Our doctors focus on a team approach in our Boynton Beach and Parkland, Florida office locations. This page provides more information on dental veneers and how they can help improve your smile. If you have any additional questions regarding dental veneers or any other dental treatment you may need, please contact us or make a no-charge consultation appointment online easily on our website. We're happy to help!
What is a dental veneer?
A dental veneer is a thin layer shell, custom designed for your smile that covers only the front side on the tooth. A veneer bonded to the tooth and is used to close a gap between teeth, improve the appearance of your healthy teeth, change the color of your teeth, or fix a chipped tooth.
How is a dental veneer made?
Much like a dental crown, a dental laboratory also fabricates a dental veneer. Dr. Tomalty will prepare your tooth for the veneer by taking away very minimal enamel. After, an impression will be taken of your teeth and a temporary put in place. When the laboratory is finished, the veneer will be bonded to the front of your tooth for a beautiful and aesthetic result!
Read Our Reviews!
"It took me 7 years to find this dentist in south Florida. I went through a few horrors as we all do!!! They are great on price and they now have the added bonus of Caitlin Bun who is a amazing dentist, she works efficiently and gives you 100 percent at all times, I would also recommend Samantha as the dental tech. I would recommend this dental office to anyone looking for a recommendation for a dentist"
Rating: 5/5   ⭐⭐⭐⭐⭐
Read more reviews on Google!