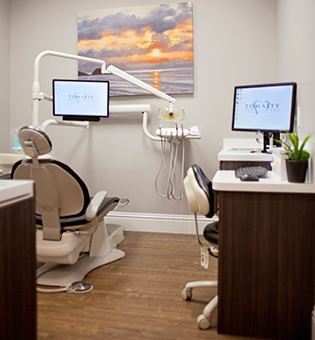 Welcome Video
Get to know the Tomalty Family
Find a Location Near You:
"I can't say enough good things about my experience at Tomalty Dental. It is obvious that they truly care about their patient experience.

I had my first cleaning and, unfortunately, filling this week. It was so easy to book an appointment. They work late and even on Saturdays which is HUGE for professionals who can't take off work during business hours.

The office is brand new with state of the art equipment and facilities and the staff is super friendly. My cleaning with Andrea was great- quick and very thorough. Dr. Tomalty Tomalty was fantastic– very nice and professional. He explained everything he was doing and took time to review all of my x-rays with me. I always like to know what's going on, so that was a big plus in my book.

My tolerance for pain is pretty low, but I had absolutely no discomfort whatsoever during my filling. Dr. Tomalty used a different numbing method that doesn't involve any painful needle pricks. The numbness wore off in less than an hour, so I was able to go right back to work.

Overall, a 5 star experience in every way. I will definitely recommend Tomalty Dental to anyone and everyone!"

— Kelly C. (Yelp.com)
Periodontal / Gum Disease
Actual case performed by Tomalty Dental Care Specialists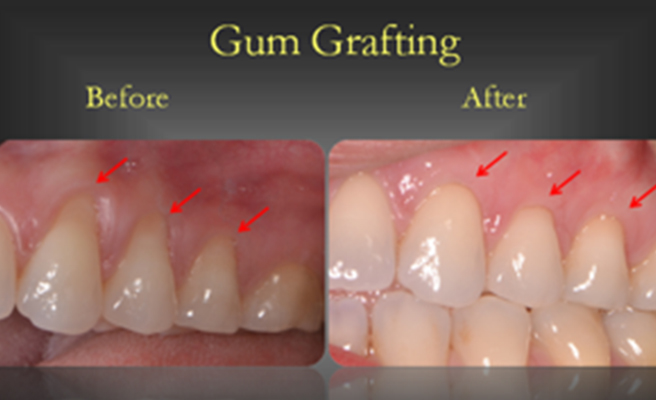 Drs. Tomalty, Jordan, and Lorne Tomalty all have a mutual goal – to provide our patients with the utmost quality dental care in our two Boynton Beach and newest Parkland locations. With over 48 years of combined experience, the Tomalty Dental Care team focuses on improving and maintaining your periodontal health. If you have any questions regarding periodontics or your dental needs, please contact us or make a no-charge consultation directly on our website.
What is Periodontics?
Periodontics is the dental specialty that focuses on everything surrounding the teeth – the gums and bone. Dr. Bradley Ross works alongside Dr. Tomalty to provide their patients with the best possible periodontal care.
What is gum disease?
Gum disease is an infection of the tissues (gum & bone) that surround and support your teeth. It is a major cause of tooth loss in adults. Because gum disease is usually painless, you may not know you have it. Also referred to as periodontal disease, gum disease is caused by plaque, the sticky film of bacteria that is constantly forming on our teeth. Other causes of gum disease are: smoking, genetics, crooked teeth, pregnancy, diabetes, and some medications. Regular dental check-ups and cleanings can help diagnose & periodontal disease.
What are the signs of gum disease?
-Bleeding gums
-Sore gums
-Flappy gums that have pulled away from the teeth
-Loose permanent teeth
-Noticeable change in bite