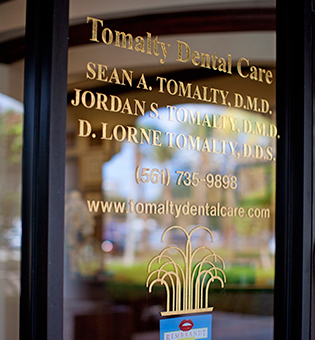 Find a Location Near You:
"It is not everyday that you come across such a caring and compassionate dentist and staff. I have been looking for a dentist in boynton beach for over 5 years now and have been unsatisfied with every other office that I have come across. This office stands out among all the others for many reasons."

— Jessica M. (Yelp.com)
Tomalty Dental Care: Central Boynton Beach
When you visit our Central Boynton Beach dental office in Boynton Beach, your smile is our top priority. While having a dentist nearby is important, it's more important that you find the right dentist for you and your family.  Drs. Tomalty and Jordan Tomalty and the entire Tomalty Dental Care team are dedicated to providing you with the personalized and quality care that you deserve in the Boynton Beach Florida area. Our goal is to make you feel satisfied with your smile. We are located off of Boynton Beach Blvd., just west of Jog Road, in the Central Boynton Beach plaza. Our office faces Boynton Beach Blvd. We are happy to serve you and your family's dental needs in Boynton Beach.
Emergency Dentist in Boynton Beach, FL
Any dental issue that requires immediate treatment to stop bleeding, alleviate severe pain, or save a tooth from having to be removed is considered a dental emergency. It is important to seek medical attention from a qualified emergency dentist when dealing with any of these symptoms. The sooner you contact a dentist the more likely your tooth can be saved, or you can prevent a larger health problem.  Our goal is to offer the best dental care in your area at the most competitive rates in Boynton Beach.

Types of Dental Emergencies
Below we have listed a few common dental emergencies that usually require immediate care.
Knocked Out Tooth
A tooth that has been knocked out in its entirety due to trauma of some kind. There is a possibility that a dentist may be able to reattach it, but only if you act quickly. Within ten minutes the tooth has a fair chance of taking root again. After two hours, however, the chances are poor. Gently rinse the tooth but do not scrub as that can remove important tissue vital for reintegration. Place it back in the socket, or if that is not possible, in a cup of cold milk, and get to a dentist near you right away. 
Chipped or Broken Tooth
When only part of a tooth is lost due to injury. Broken teeth can almost always be saved, but again speed is a factor. Wrap the shard in a damp cloth and bring it to the emergency dentist. If it's a small break, a dentist may use a white filling to fix the tooth. If the break is serious, larger intervention such as a root canal or crown may be needed. 
Abscessed Tooth
A severe condition where a pocket of pus in the tooth has led to an infection. Abscesses may cause fever, tooth sensitivity, a persistent toothache, or swelling in the face. Because the infection can spread into your jaw, surrounding tissue, and other areas of the body, it is considered a dental emergency. Rinse your mouth with mild salt water several times to reduce the pain and get to an emergency dentist as soon as possible.
Bleeding or Laceration
Biting down on the inside of your cheek or lip severely can be a dental emergency. Try to stop the bleeding by pressing down firmly with a damp cloth. If the bleeding doesn't stop after a few minutes call your dentist. It could require medical attention.
Same Day Appointments
If you are experiencing any of these symptoms and live in or are visiting the Boynton Beach area contact us at our Boynton Beach dental office right away. We have same day appointment available for emergency procedures.  If you're looking for a dentist around you, visit or contact us today and let us help you bring back your beautiful smile combined with good dental health!
Hours
​Monday: 9:00 am – 5:00 pm
Tuesday: 9:00 am – 5:00 pm
Wednesday: 9:00 am – 5:00 pm
Thursday: 9:00 am – 5:00 pm
Friday: 9:00 am – 5:00 pm
Top Rated Dentist Near You
"Professional, friendly, gentle and efficient!!
Words I would use to describe my experience at Tomalty Dental Care. A good dentist is very important to me and my experience with all three dentists at this location has been amazing. Teeth can get complicated from implants, root canals to crowns. Sadly I have had all… but Dr. Lorne, Dr. Tomalty and Dr. Jordan have cared for me well!
My hygienists Joy and Stephanie are amazing!
Careful, and competent !"
Rating: 5/5   ⭐⭐⭐⭐⭐
Read more reviews on Google!